MEDICAL & THERAPEUTIC MASSAGE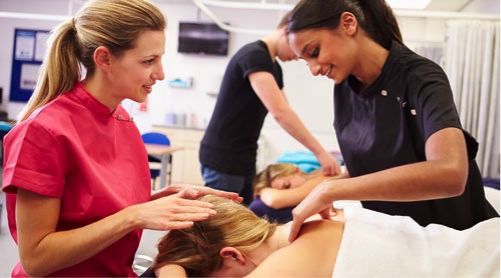 RMCTC is proud to offer this program in partnership with
European Medical School of Massage.
The course consists of 700 hours of training.  |  Earn a diploma in just nine months!
---
OPEN HOUSE
Every Sunday
1:00 p.m. — 5:00 p.m.
Location: EMSOM in Sinking Spring
PROGRAM SCHEDULE
Please call for details.
PROGRAM LOCATION
European Medical School of Massage
2913 Windmill Road
Sinking Spring, PA 19608
PROGRAM TUITION
$6,875
Financial aid available for those who qualify.
PROGRAM OBJECTIVES
The educational objectives are the guidelines to prepare medical massage therapists to become highly trained, knowledgeable professionals. The massage curriculum will build upon basic knowledge of massage therapy. The curriculum will provide information that will change the landscape of the massage industry by teaching techniques to give the highest level of care to all clients.
Students are provided with the educational tools necessary to:
Learn to evaluate and heal more difficult treatment situations that arise in massage practices.
Implement detailed assessment, body strengthening therapeutic movements, and hands-on techniques to address more complicated musculoskeletal dysfunctions.
Expand the student's expertise with bodywork, spa, and nutritional evaluation techniques that will complement traditional massage therapy interventions.
Advance the massage therapist's ability to help clients on many levels of treating chronic pain with knowledge of orthopedic massage, lymphatic drainage, and special massage modalities.
PROGRAM DESCRIPTION
The 700-hour European Medical and Therapeutic Massage program will provide students with a diploma program to prepare for careers in medical massage therapy.
The program will offer students quality, comprehensive training in modalities including: medical and rehabilitative massage; oncology massage; sports massage; aromatherapy; hydrotherapy; cranio-sacral therapy; soft tissue release; myofascial and trigger point release; pre- and post-natal massage; deep tissue massage; reflexology; and other modalities specifically focused on special populations.
The program also provides students with training in professional business development, ethics and law, CPR, and first aid/AED.
After successful completion, the practitioner will be prepared to take the Pennsylvania licensing examination and thereafter can look forward to a rewarding career in medical massage.

EMSOM and its curriculum are accredited
by the Commission on Massage Therapy Accreditation.
ABOUT EUROPEAN MEDICAL SCHOOL OF MASSAGE
European Medical School of Massage LLC provides the Berks County community with access to massage therapy education by experienced, educated, and motivated instructors for a career in a holistic and beneficial field of healthcare.
Get Started!
Classes are forming now!
Call 610-670-6100.
RMCTC Adult Education Contact Info
Tel. 610-921-7300
Fax. 610-921-7367
---
Read the Evening School Policies and Procedures.