BRICKLAYING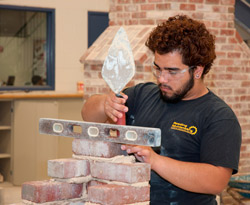 Construct masonry structures specializing in fireplace and arches with the use of hand tools, power tools and other materials while maintaining a safe environment.
Discover how to manage construction projects by applying skills such as blueprint reading and estimating labor and materials.
Install floor tile, repair old or damaged masonry work and lay hardscape pavers using a variety of masonry materials.
Job Titles — Career Pathways
41-2031   Retail Salespersons
47-2021   Brickmasons and Blockmasons
47-2044   Tile and Marble Setters
47-2061   Construction Laborers
47-3011   Helpers — Brickmasons, Blockmasons, Stonemasons, and Tile and Marble Setters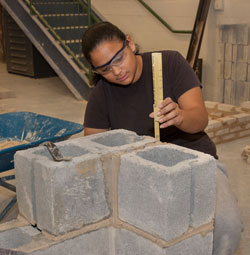 CTC knowledge transfers to college credits at:
Pennsylvania College of Technology
Thaddeus Stevens College of Technology
Student Certifications
NOCTI – National Occupational Competency Testing Institute Certification
*  Mason/Masonry
OSHA Safety Certification
PBA – Pennsylvania Builders Association
Accreditations
PBA – Pennsylvania Builders Association

➤ For more detailed information about this program, including the grading policy, task list, etc., please refer to the course syllabus.
---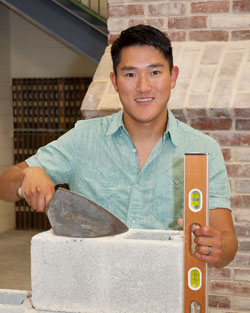 Instructor – Mr. Lee Brumbach
Biography
I began working in the masonry field during summer break when I was in middle school and continued until college. I have always enjoyed working with my hands and I chose to go to college for construction technology. I graduated from Lehigh Carbon Community College in 2011 with an associate's degree.
I have worked for several different companies and worked in the career and technology education field as an instructional assistant in the masonry program at another career and technology school. Most recently I worked for a commercial masonry company called The Witmer Group.
I reside in Lancaster with my wife and dog. I enjoy the outdoors and staying active. My hobbies include hunting, fishing, camping, exercise, tae kwon do, and hap kido.
Education
2008 graduate of Oley Valley High School
2011 graduate of Lehigh Carbon Community College
Certifications and Awards
Paraprofessional Credential
O.S.H.A. 10-hour Certificate
Work Experience
Various masonry and construction companies
Berks Career & Technology Center
The Witmer Group
Hire Date: 2017
Community Service
I have been a part of various work and mission trips with my church. This includes helping the Opportunity House in Reading and the Water Street Mission in Lancaster. I have helped with my church youth group for many years. I have also helped with SKILLS USA.
---

SOAR programs of study prepare today's student for tomorrow's high demand and high wage careers.