BAKING & PASTRY ARTS
Plan and prepare a variety of desserts and pastries in both small and large batches that can be served in a variety of establishments, from casual to fine dining settings.
Work, hands-on, using state-of-the-art kitchen tools and equipment found in large and small industrial kitchens and bakeries.
Earn industry-recognized certifications and develop employability skills including resume preparation, interview techniques, and inter-personal skills that prepare students for competitive employment opportunities locally and abroad within the growing and diverse baking and hospitality industry.
Acquire practical knowledge and skills necessary for entry-level employment, along with preparation for academic success at the post-secondary level in either a community college, technical school, or a four-year college or university.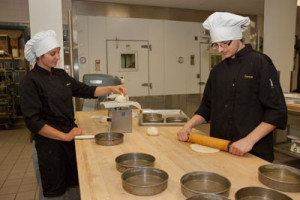 Job Titles – Career Pathways
35-1011   Chefs and Head Cooks
35-3022   Counter Attendants, Cafeteria, Food Concession, and Coffee Shop
35-3041   Food Servers, Nonrestaurant
35-9021   Dishwashers
51-3011   Bakers
51-3092   Food Batchmakers
LOCAL     Cake Decorator
LOCAL     Bakers Assistant
LOCAL     Bread Baker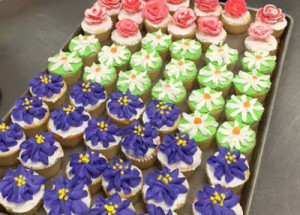 CTC knowledge transfers to college credits at:
Art Institute of Philadelphia
Bucks County Community College
Delaware County Community College
Harrisburg Area Community College
Keystone Technical Institute
Luzerne County Community College
Montgomery County Community College
Pennsylvania College of Technology
The Restaurant School at Walnut Hill College
Westmoreland County Community College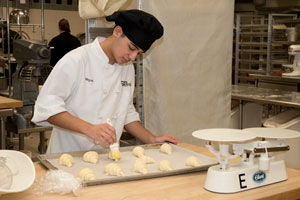 Student Certifications
ServSafe
NOCTI – National Occupational Competency Testing Institute Certification
*  Retail Commercial Baking
CFPC – Certified Fundamentals Pastry Cook
S/P2 – Culinary

Accreditations
ACF – American Culinary Federation

➤ For more detailed information about this program, including the grading policy, task list, etc., please refer to the course syllabus.
---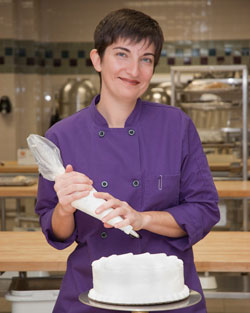 Instructor – Mrs. Kathie Murray
Biography
I was born in Delaware and raised in Laureldale, PA. I've lived in Rhode Island, New York City, and North Carolina. I currently reside in the Reading area with my husband and two sons. I enjoy spending time with family traveling the U.S. and abroad. Recently I've found a love of running, and I enjoy participating in local races.
Education
Muhlenberg High School
A.S. Culinary Arts, B.S. Foodservice Management, Johnson & Wales University, Providence Campus.
M.Ed., Temple University
Certifications and Awards
ServSafe Certified
Temple Teacher Leadership
Work Experience
I have been working in the hospitality industry since high school, where my first job was as a hostess at a local restaurant. I fell in love with the fast paced, energetic environment of the food service industry and made plans and attended one of the top culinary schools in the United States.
At Johnson & Wales, I excelled in my classes and simultaneously worked full time as a teaching assistant and fellow. This experience was invaluable, and I had the opportunity to work in a variety of food service establishments, including university, ala carte, banquet, casual, and fine dining. Working as a teaching assistant and fellow, I realized my love for teaching students.
I was recruited directly out of college to work for the prestigious Waldorf Astoria in New York City. Working in an upscale environment allowed me to see the finest examples of culinary and baking artistry in the world. It also allowed me to meet and serve a diverse group of customers. including celebrities and dignitaries.
From New York City, I chose to move to North Carolina to join a large and fast-growing corporation, California Pizza Kitchen (CPK). There I was able to continue growing my culinary knowledge while improving on my management skills, and I was promoted to manager, general manager, and regional training manager, respectively. I worked for CPK for nine and a half years and managed a large, young, diverse staff in the upscale casual restaurant. These combined experiences helped me become a well-rounded baker and to grow my appreciation for fine food and dining.
Hire Date: 2010
---

SOAR programs of study prepare today's student for tomorrow's high demand and high wage careers.