SERVICE OCCUPATIONS EDUCATION

Develop the necessary skills needed to obtain competitive entry-level employment, workplace readiness, interpersonal skills, independence and teamwork, in the service industry.
Acquire skills needed in the laundry and dry cleaning industries.
Develop hands-on skills for industrial food preparation and kitchen helper.
Achieve knowledge needed to work in a cafeteria, dining room, or dish room.
Utilize appropriate cleaning techniques according to industry guidelines to clean multiple areas and surfaces.
Be able to stock and organize inventory, practice safety, and learn other essential skills within the distribution setting.
Job Titles – Career Pathways
35-2021    Food Preparation Worker
35-3022    Cafeteria/Concession/Coffee Shop Counter Attendant
35-9011    Dining Room & Cafeteria Attendant
35-9021    Dishwasher/Kitchen Helper
37-2011    Janitor & Cleaner
37-2012    Maids and Housekeeping
43-5081    Stock Clerks and Order Fillers
51-6011    Laundry and Dry Cleaning Worker
Student Certifications
Mobile Ladder – American Ladder Institute
Step Ladder – American Ladder Institute
AHA – Heartsaver CPR/AED
➤ For more detailed information about this program, including the grading policy, task list, etc., please refer to the course syllabus.
---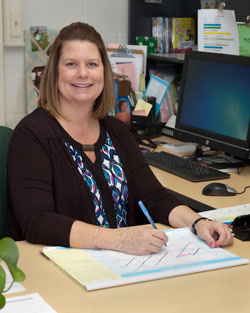 Instructor – Mrs. Melisa Diehm
Biography
I like to spend time with my family and friends.  Both my husband and I are teachers and my daughter also aspires to be a teacher.  We have two dogs and love to take them camping with us, camping is my favorite activiy.
Education
B.S., Immaculata University
M.S., Cabrini College
Experience
I have over 15 years of classroom teaching experience but worked in education for over 19 years–both academic and career and technology. I have served as a teacher as well as a disciplinarian. I am also an adjunct professor at Harrisburg Area Community College. I have a passion for helping students succeed in the classroom and in their lives after graduation.
Hire Date: 2012
---