ELECTRONICS & COMMUNICATION TECHNOLOGY

Prepare for an exciting career as an assembler, technician, or engineer in the rewarding field of electronics.
Learn soldering techniques, circuit troubleshooting/design, digital electronics, using test equipment, and embedded computer technology.
Develop "hands on" experience with projects, trainers, and CAI (Computer Aided Instruction).
Accelerate your path to electrical and electronic engineering with advanced placement at post-secondary schools and colleges.
Job Titles – Career Pathways
17-2061   Computer Hardware Engineers
17-2072   Electronics Engineers, Except Computer
17-3012   Electrical and Electronic Drafters
17-3023   Electrical and Electronic Engineering Technicians
17-3024   Electro-Mechanical Technicians
41-2022   Parts Salespersons
41-4011   Sales Representatives, Wholesale and Manufacturing, Technical and Scientific Products
41-9031   Sales Engineers
49-2000  Electrical and Electronic Equipment Mechanics, Installers, and Repairers
51-2022   Electrical and Electronic Equipment Assembler
CTC knowledge transfers to college credits at:
Butler County Community College
Clarion University of Pennsylvania
Community College of Allegheny County
Delaware County Community College
Harrisburg Area Community College
Johnson College
Lehigh Carbon Community College
Lincoln Technical Institute
Luzerne County Community College
Montgomery County Community College
Northampton Community College
Pennsylvania College of Technology
Thaddeus Stevens College of Technology
Westmoreland County Community College
➤ Adult Education Clock Hour/Credit Hour Chart for this program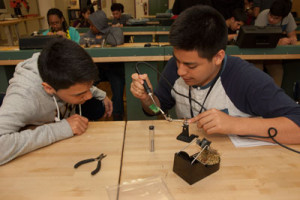 Student Certifications
NOCTI – National Occupational Competency Testing Institute Certification
* Electronics Technology
Certified Electronics Technician Associate (CETa)
IPC Thru-hole Soldering
Accreditations 
International Society of Certified Electronics Technicians

➤ For more detailed information about this program, including the grading policy, task list, etc., please refer to the course syllabus.
---
Instructor – Mr. James F. Dowling
Biography
I was born and raised on Long Island, New York, moving to Pennsylvania in the late 1980s. I love the outdoors and found the Keystone State a welcome change to the busy New York lifestyle. After a long career in electronics engineering and management, I wanted to share my experience with future technicians and engineers, so I began teaching.
Education
A.A.S. in Electronic Technology, State University of New York
College University credits in business, computer science, and engineering
Certifications and Awards
Vocational Education I and Vocational Education II Teaching Certifications, Temple University
Experience
I have more than 40 years of electronics technical, engineering, and management experience. I have served as vice president for two companies and have twice run my own successful businesses. In addition to teaching at RMCTC, I have taught summer programs (ACE) K-12 students at PAL (Police Athletic League) and have served as a professor at RACC.
Hire Date: 1999
Community Service
I volunteer with horse rescues and special needs therapy using horses.
---

SOAR programs of study prepare today's student for tomorrow's high demand and high wage careers.