AUTOMOTIVE TECHNOLOGY

Develop the skills necessary to perform proper hands-on vehicle repairs.
Expand your career options by earning your PA Vehicle Safety & Emissions Inspection certifications.
Maintain, diagnose, analyze, and repair basic-to-advanced automotive systems.
Learn the 3 "C's" – Complaint, Cause, and Correction – used in the automotive repair industry.
Job Titles – Career Pathways
41-2022    Parts Salespersons
49-2096    Electronic Equipment Installers and Repairers, Motor Vehicles
49-3023    Automotive Service Technicians and Mechanics
49-3093    Tire Repairers and Changers
53-6051    Transportation Inspectors
53-7061    Cleaners of Vehicles and Equipment
LOCAL      Lube Technician
LOCAL      Alignment / Suspension Technician
LOCAL      Brake Technician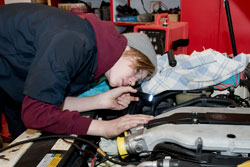 CTC knowledge transfers to college credits at:
Commonwealth Technical Institute
Community College of Allegheny County
Community College of Philadelphia
Delaware County Community College
Harrisburg Area Community College
Johnson College
Lincoln Technical Institute
Luzerne County Community College
Northampton Community College
Ohio Technical College
Pennsylvania College of Technology
Rosedale Technical College
Thaddeus Stevens College of Technology
Universal Technical Institute (UTI)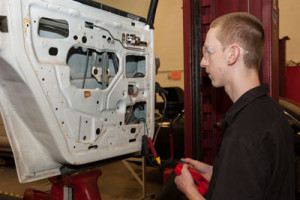 Student Certifications
NOCTI – National Occupational Competency Testing Institute Certification
* Automotive Technician – Core
Pennsylvania Vehicle Safety Inspector Certification, Cat I
Pennsylvania Vehicle Safety Inspector Certification, Cat III
Pennsylvania Vehicle Emissions Inspector Certification
OSHA Fire Extinguisher Certification – 29 CFR 1910-157
Valvoline Motor Oil Specialist Certification
S/P2 – Automotive Service Safety & Automotive Service Pollution Prevention
EPA Section 609 Certification for Refrigerant Recycling and Recovery
Accreditations
NATEF – National Automotive Technicians Education Foundation

 
➤ For more detailed information about this program, including the grading policy, task list, etc., please refer to the course syllabus.
---
Instructor – Mr. Zak Yankowski
---

SOAR programs of study prepare today's student for tomorrow's high demand and high wage careers.