ELECTRICAL TECHNOLOGY

Design and construct electrical systems in homes and businesses.
Develop the skills and knowledge needed to build electrical systems.
Successfully transition into a first career job and/or related post-secondary training.
Interact with local electrical industry experts.
Job Titles –Career Pathways
41-2031    Retail Salespersons
47-2111    Electricians
47-3013    Helpers — Electricians
49-9098    Helpers — Installation, Maintenance, and Repair Workers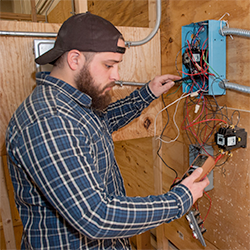 CTC knowledge transfers to college credit at:
Harrisburg Area Community College
Keystone Technical Institute
Lincoln Technical Institute
Orleans Technical Institute
Pennsylvania College of Technology
Rosedale Technical Institute
Triangle Technology
Student Certifications
NOCTI – National Occupational Competency Testing Institute Certification
*  Electrical Power & Transmission Installers
OSHA Safety Certification
PBA – Pennsylvania Builders Association
Accreditations – PBA – Pennsylvania Builders Association

➤ For more detailed information about this program, including the grading policy, task list, etc., please refer to the course syllabus.
---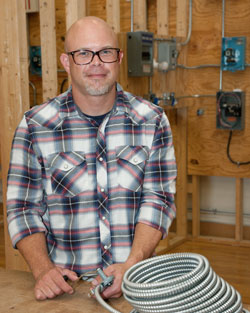 Instructor – Mr. Chad Heffner
Biography
I am a graduate of Reading High School and Reading Muhlenberg Vocational-Technical School. I entered the electrical trade because it is an ever-expanding industry with many different career paths.
I decided to enter the teaching profession because I wanted to pass along to high school students the knowledge I've attained through my 15 years in the electrical field. Students can realize these skills and knowledge and some of the opportunities available to them in the electrical industry.
Education
IBEW Local 743 Apprentice Program
Vocational Education I Teaching Certificate
Certifications and Awards
NECA/IBEW Apprenticeship
OSHA 30-hour training
Work Experience
15 years residential, commercial, and industrial
Hire Date: 2011
Community Service
Home Builders Association
---

SOAR programs of study prepare today's student for tomorrow's high demand and high wage careers.