PLUMBING & HEATING

Design and build residential and industrial plumbing systems.
Install kitchen and bathroom fixtures using state of the art hand tools, power tools, and equipment.
Repair and replace older plumbing fixtures and faucets with modern tools and equipment used by master plumbers.
Obtain OSHA 10-Hour Safety Certification required by most plumbing contractors.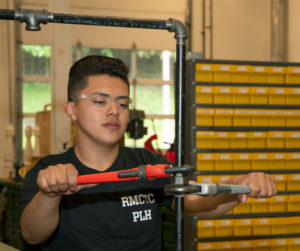 Job Titles – Career Pathways
47-2152   Plumbers, Pipefitters, and Steamfitters
47-3015   Helpers — Pipelayers, Plumbers, Pipefitters, and Steamfitters
49-9042   Maintenance and Repair Workers, General
LOCAL     Pipefitter
LOCAL     Plumbing Salesperson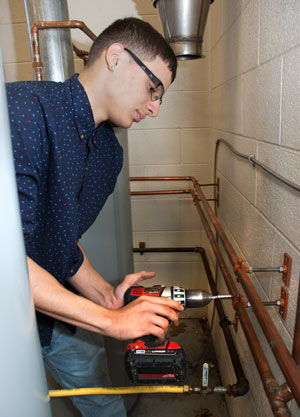 CTC knowledge transfers to college credits at:
Community College of Allegheny County
Luzerne County Community College
Orleans Technical Institute
Pennsylvania College of Technology
Thaddeus Stevens College of Technology
Triangle Technology
Student Certifications
NOCTI – National Occupational Competency Testing Institute Certification
*  Plumbing Technology/Plumber
OSHA Safety Certification
PBA – Pennsylvania Builders Association
Corrugated Stainless Steel Tubing Installation Certification
Accreditations
PBA – Pennsylvania Builders Association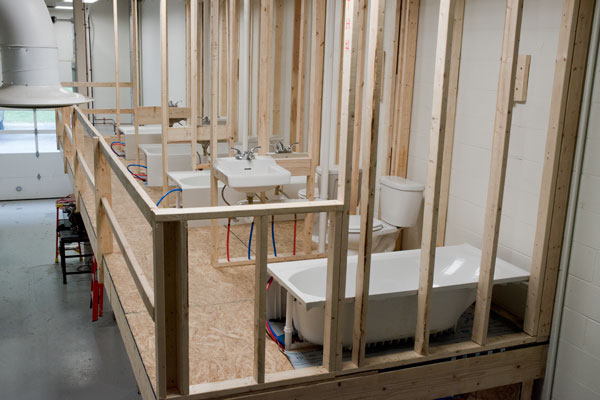 ➤ For more detailed information about this program, including the grading policy, task list, etc., please refer to the course syllabus.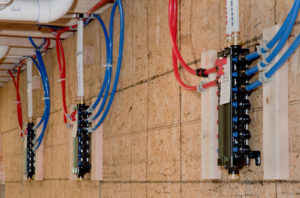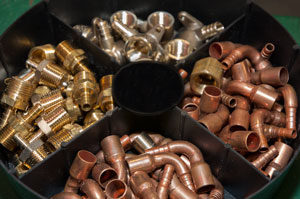 ---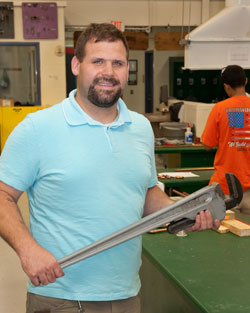 Instructor – Mr. Christopher Gardecki
Biography
I started my career in the Plumbing and Heating program at Berks Career & Technology Center, Oley Campus. I spent three years learning all that I could to help in my job placement and to prepare me for the plumbing industry. After graduating, I started my plumbing career. My vo-tech education helped me to receive my first job within two weeks of graduation.
I continued to work various jobs in the plumbing field before enrolling in the apprentice program. After four years of classes, I received my Journeyman license. After working under a master plumber for two years, I took the test and then received my Master plumber license. Since then I have run my own truck, crew, and jobs.
After working for many years in the field and still learning everything I could to be the best at my job, I decided to become a teacher at the Reading Muhlenberg Career and Technology Center because I love teaching this much-needed and never-ending trade.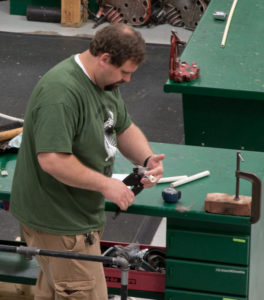 Education
Plumbing and Heating Program, Berks Career & Technology Center
Plumbing Apprentice Program, Berks Career & Technology Center
Master Plumber's Course, Berks Career & Technology Center
Certifications and Awards
Gastite
Uponor
Master Plumber License for the City of Reading
Work Experience
I worked in the plumbing and heating field involving new home construction, remodeling, demolition, residential, commercial, and service plumbing for approximately 20 years.
Hire Date: 2015
---

SOAR programs of study prepare today's student for tomorrow's high demand and high wage careers.