Develop the knowledge of industrial systems, including electrical, mechanical, hydraulic, pneumatic, and PLC controls.
Learn test equipment, soldering techniques, design and troubleshoot mechanical and electrical systems, motor controls, and PLC technology.
Effectively apply problem-solving and leadership skills in a field that offers a multi-disciplinary approach to product and manufacturing system design.
Enroll in a challenging and rewarding program leading to "high priority" jobs right here in Berks County or continue onto a post-secondary college of your choice.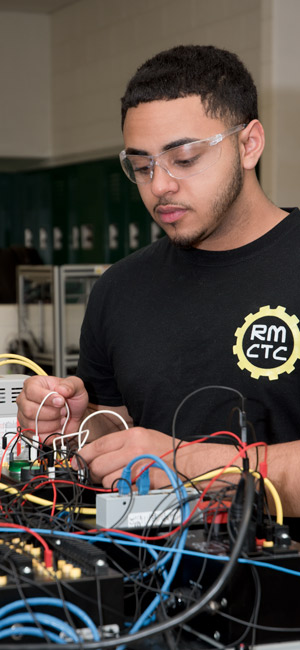 ➤ View the Engineering & Automation Technology / Mechatronics Engineering Technology program brochure
➤ View the Technical Academy brochure
Job Titles – Career Pathways
17-2199.05 Mechatronics Engineers
17-3024 Pre-Electromechanical Technician
17-3029 Electromechanical Engineering Technologists
49-9071 Maintenance and Repair Workers, General
49-9098 Installation, Maintenance, and Repair Workers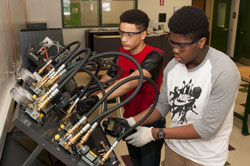 CTC knowledge transfers to college credits at:
Clarion University of Pennsylvania
Harrisburg Area Community College
Northampton Community College
Reading Area Community College
*Earn up to 29 dual enrollment college credits with Reading Area Community College through participation in the Technical Academy.
Student Certifications
NOCTI – National Occupational Competency Testing Institute Certification
* Electromechanical Engineering Technology
AMIST Certification – Level I
OSHA Safety Certification


 
➤ For more detailed information about this program, including the grading policy, task list, etc., please refer to the course syllabus.
---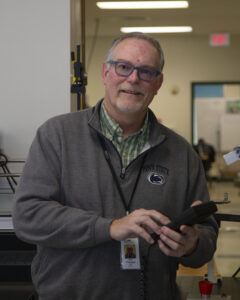 Instructor – Mr. Brian Potteiger P.E.
Biography

I am a proud graduate of Reading Senior High School. In my 37-year engineering career, I worked with incredible technology and witnessed the advancement of many Electro-Mechanical Technologies. As I approached the end of my engineering career, I contemplated what to do next and I often thought about teaching, but what would I teach – physics, calculus, chemistry? Then an opportunity presented itself at RMCTC to teach the Engineering & Automation Technology Program. The curriculum in the program aligned very nicely with my professional engineering experience. I accepted the position and thoroughly enjoy teaching Electro-Mechanical Technology to future engineers and technicians. I reside in the Temple area with my wife, Lori. We have 13 grandchildren and enjoy spending time with all of them. I am a Philadelphia sports teams' fan and I enjoy exercising and weight-lifting.
Education
Bachelor of Science, Mechanical Engineering, Penn State University
Master of Science, Engineering Science, Penn State University
Certifications and Awards
Professional Engineer, Commonwealth of Pennsylvania
OSHA-10 General Industry Safety
Granted twelve (12) – United State Patents
Intern Certificate, Career & Technical Education
Work Experience
Over the past five (5) decades, I have had the opportunity to work with highly educated and skilled individuals from around the world. I worked with state-of-the-art technology, developed automated assembly processes, designed/built automated equipment, and supported contract manufacturing facilities around the globe. I was granted twelve (12) U.S. Design Patents. I worked as a Technical Manager, supervising a team of engineers, conducted internal audits for global compliance to ISO 9000, and co-authored/published several technical papers. I am proficient in CAD, PLC programming, electrical-mechanical design, statistical process control, and technical documentation.
Hire Date: August 2022
---

SOAR programs of study prepare today's student for tomorrow's high demand and high wage careers.