Develop the knowledge of industrial systems, including electrical, mechanical, hydraulic, pneumatic, and PLC controls.
Learn test equipment, soldering techniques, design and troubleshoot mechanical and electrical systems, motor controls, and PLC technology.
Effectively apply problem-solving and leadership skills in a field that offers a multi-disciplinary approach to product and manufacturing system design.
Enroll in a challenging and rewarding program leading to "high priority" jobs right here in Berks County or continue onto a post-secondary college of your choice.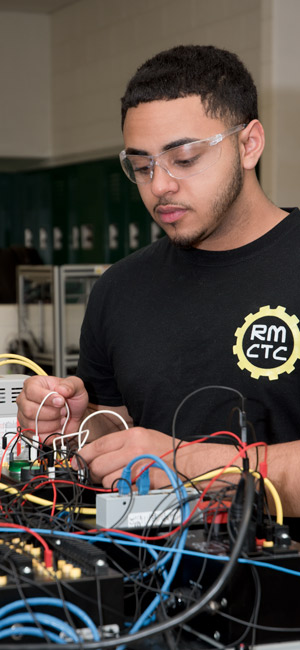 ➤ View the Engineering & Automation Technology / Mechatronics Engineering Technology program brochure
➤ View the Technical Academy brochure
Job Titles – Career Pathways
17-2199.05 Mechatronics Engineers
17-3024 Pre-Electromechanical Technician
17-3029 Electromechanical Engineering Technologists
49-9071 Maintenance and Repair Workers, General
49-9098 Installation, Maintenance, and Repair Workers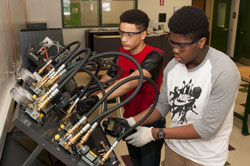 CTC knowledge transfers to college credits at:
Clarion University of Pennsylvania
Harrisburg Area Community College
Northampton Community College
Reading Area Community College
*Earn up to 29 dual enrollment college credits with Reading Area Community College through participation in the Technical Academy.
Student Certifications
NOCTI – National Occupational Competency Testing Institute Certification
* Electromechanical Engineering Technology
AMIST Certification – Level I
OSHA Safety Certification


 
➤ For more detailed information about this program, including the grading policy, task list, etc., please refer to the course syllabus.
---
Instructor – Mr. Benjamin Harmuth
Biography
I grew up in the Lebanon area, graduating from Cedar Crest High School. I excelled in my drafting and design course at Lebanon County Career & Technology Center. My instructor encouraged me to pursue a career as an engineer, and I attended Thaddeus Stevens College, graduating with an Associate of Applied Science Degree. I then continued my education at Penn State, earning my Bachelor's Degree in Mechanical Engineering. I worked as a design engineer and project engineer at local companies before accepting a teaching position at Thaddeus Stevens. Realizing my passion was for teaching and working with students, I joined the team at RMCTC.
Education
Associate of Applied Science, Mechanical Engineering Technology, Thaddeus Stevens College of Technology
Bachelor of Science, Mechanical Engineering Technology, Penn State University
Certifications and Awards
Mechanical Engineering Technology/Associate Engineering Technologist
Professional Engineer in Training certificate (ET017579)
Certified Investment Casting Specialist
Work Experience
Butler Manufacturing Company, 3 years
Tech Cast, LLC, 2 years
Thaddeus Stevens College, 1 semester
Hire Date: 2014
Community Service
Sound technician at church
---

SOAR programs of study prepare today's student for tomorrow's high demand and high wage careers.