Discover your creative, artistic abilities designing various hair styles and nail art.
Prepare for an exciting, rewarding career working in a salon or spa atmosphere.
Imagine yourself as a world renowned haircutter/hairstylist in your own salon or teaching other stylists.
Receive a State Board of Cosmetology license upon completion of the state mandated 1,250 hours and the passing of state boards.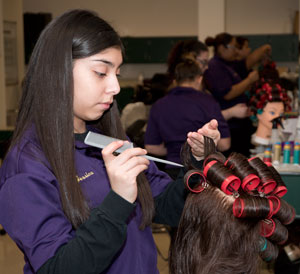 Job Titles – Career Pathways
39-5012   Hairdressers, Hairstylists and Cosmetologists
39-5092   Manicurists and Pedicurists
39-5093   Shampooers
39-5094   Skin Care Specialists
43-4171   Receptionists and Information Clerks
LOCAL     Natural Hair Braider
CTC knowledge transfers to college credits at:
Saint Francis University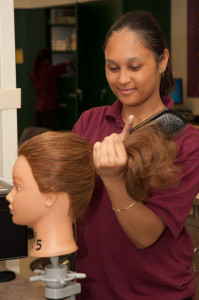 Student Certifications
Cosmetology Certification
NOCTI – National Occupational Competency Testing Institute Certification
*  Cosmetology
Manicurist Certification
Hair Braiding Certification
Teacher Certification
Esthetician
S/P2 – Cosmetology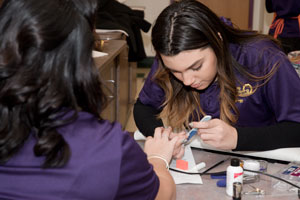 ➤ For more detailed information about this program, including the grading policy, task list, etc., please refer to the course syllabus.
---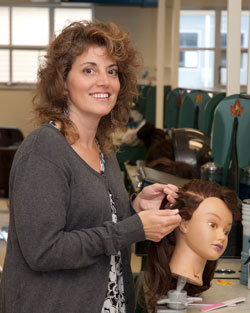 Instructor – Mrs. Patricia Adams
Biography
I am a graduate of Muhlenberg High School and Reading-Muhlenberg Area Vocational Technical School, Randy Rick Beauty School, Kutztown University, and Temple University.  I have been a Girl Scout leader, Bible School teacher, and hairdresser.
Education
B.S., Elementary Education, Kutztown University
Randy Rick Beauty School
Vocational Education II Teaching Certificate, Temple University
Masters, Temple University
Certifications and Awards
PA Cosmetology Teachers License, Elementary Education, and numerous certificates relating to education and behavior intervention.
Work Experience
I owned a beauty salon and have been an instructor at two cosmetology schools. I also have taught elementary education and have been an early intervention specialist.
Hire Date: 2009
---
Instructor – Ms. Linda Sayer
Biography
As a graduate of RMAVTS, I was happy to return as a teacher. The sharing of my knowledge and observing the minds and talents of my students are the most rewarding parts of my job. I enjoy watching students grow in their skill development and their determination to succeed. Networking with other CTC cosmetology instructors helps to keep me up to date on the latest trends and teaching techniques.
Education
Graduate of Reading High School and Reading Muhlenberg Vocational-Technical School
Vocational Education II Teaching Certification, Temple University
Empire Beauty School
Certifications and Awards
PA Cosmetology Teacher's License
Work Experience
Private cosmetology school instructor
Salon experience
Hire Date: 2001
Community service
SkillsUSA volunteer