INFORMATION TECHNOLOGY – WEB DESIGN

Explore and prepare for different areas of web design, including graphics, design, coding, and formatting for search engine optimization.
Prepare different types of web designs based in the needs of the client, for example business, e-commerce, informational, etc.
Explore additional computer skills taking apart a computer and figuring out how the components work.
Develop your programming skills making mobile phone apps, web-enabled JavaScript games, and other computer programs.
Earn college credits with the Technical Academy while still in high school.
➤ View the Information Technology–Web Design / Computer Technology program brochure
➤ View the Technical Academy brochure
Job Titles – Career Pathways
15-1099   Web Designers
15-1099.04   Web Developers
15-1199.10   Search Marketing Strategists
27-1014   Multi-Media Artists & Animators
27-1024   Graphic Designers (Web Design)
43-9011   Computer Operator
LOCAL    Web Assistant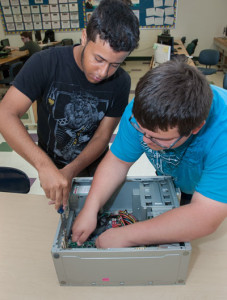 CTC knowledge transfers to college credits at:
Art Institute of Philadelphia
Berks Technical Institute
Bucks County Community College
Butler County Community College
Community College of Allegheny County
Community College of Beaver County
Delaware County Community College
Harrisburg Area Community College
Lehigh Carbon Community College
Manor College
McCann's School of Business
Montgomery County Community College
Northampton Community College
Pennsylvania College of Technology
Reading Area Community College
Westmoreland County Community College
*Earn up to 24 dual enrollment college credits with Reading Area Community College through participation in the Technical Academy.
Student Certifications
NOCTI – National Occupational Competency Testing Institute
* Web Design
ACA Dreamweaver – Web Communication
ACA Illustrator – Rich Media Communication
ACA Photoshop – Visual Communication
CIW Web Design Associate

➤ For more detailed information about this program, including the grading policy, task list, etc., please refer to the course syllabus.
---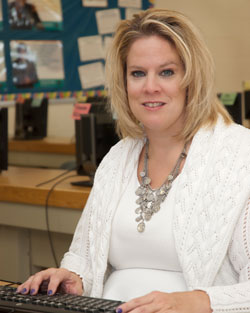 Instructor – Ms. Lisa Pison
Biography
I have been teaching web design since 2001. I have a love of teaching that began when I was a corporate trainer in industry and as an adjunct instructor for Harrisburg Area Community College. I then moved to public education, where I found my calling. I enjoy working with high school students and passing on my passion for web design. I stay current by keeping up with industry standards and the latest technology.
Education
B.S., Computer Information Systems, York College of PA
Graduate coursework, Penn State University and Temple University
Certifications and Awards
CIW Web Design Associate
Oracle Certified Instructor
Voc II CTE

Work Experience
Help desk administrator, Snyders of Hanover, Inc.
Assistant IT manager, Lisa Direct, Inc.
IT administrator, Penngate
IT director, York County Economic Development Corp.
Programming and interactive media teacher, York County School of Technology
Web design (HTML/Javascript), Harrisburg Area Community College
Adjunct professor, A+ certification, web design, Reading Area Community College
Hire Date: 2014
Community Service
Former SkillsUSA advisor for York County School of Technology
Volunteer, York County SPCA
Volunteer, Adopt-A-Boxer Rescue
---

SOAR programs of study prepare today's student for tomorrow's high demand and high wage careers.