Plan and prepare a variety of desserts and pastries in both small and large batches that can be served in a variety of establishments, from casual to fine dining settings.
Work, hands-on, using state-of-the-art kitchen tools and equipment found in large and small industrial kitchens and bakeries.
Earn industry-recognized certifications and develop employability skills including resume preparation, interview techniques, and inter-personal skills that prepare students for competitive employment opportunities locally and abroad within the growing and diverse baking and hospitality industry.
Acquire practical knowledge and skills necessary for entry-level employment, along with preparation for academic success at the post-secondary level in either a community college, technical school, or a four-year college or university.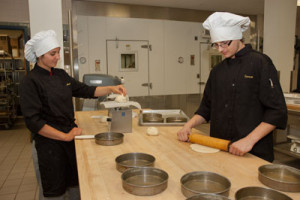 Job Titles – Career Pathways
35-1011   Chefs and Head Cooks
35-3022   Counter Attendants, Cafeteria, Food Concession, and Coffee Shop
35-3041   Food Servers, Nonrestaurant
35-9021   Dishwashers
51-3011   Bakers
51-3092   Food Batchmakers
LOCAL     Cake Decorator
LOCAL     Bakers Assistant
LOCAL     Bread Baker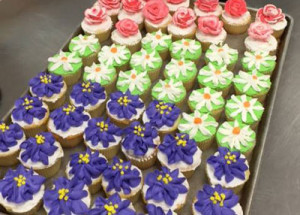 CTC knowledge transfers to college credits at:
Art Institute of Philadelphia
Bucks County Community College
Delaware County Community College
Harrisburg Area Community College
Keystone Technical Institute
Luzerne County Community College
Montgomery County Community College
Pennsylvania College of Technology
The Restaurant School at Walnut Hill College
Westmoreland County Community College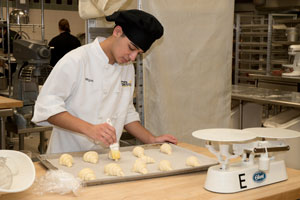 Student Certifications
ServSafe
NOCTI – National Occupational Competency Testing Institute Certification
*  Retail Commercial Baking
CFPC – Certified Fundamentals Pastry Cook
S/P2 – Culinary

Accreditations
ACF – American Culinary Federation

➤ For more detailed information about this program, including the grading policy, task list, etc., please refer to the course syllabus.
---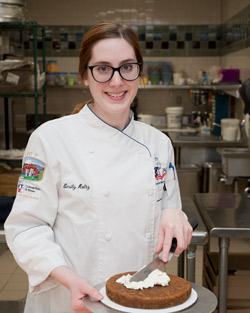 Instructor – Mrs. Emily Hilliard 
Biography
I was born and raised in Lancaster, PA, where grocery shopping was mainly done at local farmers' markets, which inspired my initial interest in the foodservice industry. Currently, I reside in the Philadelphia suburbs with my husband.  We spend much of our free time either reading, hiking, or gardening.
Education
Certificate in Pastry Arts, Pennsylvania School of Culinary Arts—York Technical Institute
Certificate in Pastry Arts, Lancaster County Career and Technology Center
Diploma, Ephrata Area Senior High School
 
Certifications and Awards
ServSafe Certified
American Culinary Federation Hot Dessert Competition, 1st Place
Pastry Live Chocolate Showpiece Competition, 1st Place
Work Experience
In my most recent position, I was employed as a Pastry Cook at the Union League of Philadelphia—a private club which encompasses several restaurants and banquet facilities across the Philadelphia region. Working in the elite club environment provided access to the highest quality ingredients, equipment, and abundant creative opportunities.
Additionally, I have worked in the pastry shop at The Hotel Hershey, where I was able to hone my skills in designing and constructing chocolate showpieces, high volume production, and plated desserts. Working within a diverse range of environments, from the city and beyond, has cultivated a desire to better my own craft in baking and pastry and to teach those that wish to do so as well.
Hire Date: 2018
---

SOAR programs of study prepare today's student for tomorrow's high demand and high wage careers.