Receive training in order to obtain your PA State Inspection certifications in auto/light truck, heavy truck/trailer, and emissions.
Prepare for a future in the diesel powered Industry, whether it is medium or heavy duty trucks, tractor, or construction equipment.
Develop the skills necessary to obtain knowledge to perform on- and off-vehicle repairs needed in the diesel repair Industry.
Utilize computers in the shop to diagnose problems on vehicles and how to repair them.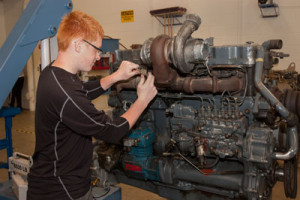 Job Titles – Career Pathways
41-2022   Parts Salespersons
49-3023   Automobile Service Technicians & Mechanics
49-3031   Bus and Truck Mechanics and Diesel Engine Specialists
49-3041   Farm Equipment Mechanics
49-3042   Mobile Heavy Equipment Mechanics, Except Engines
49-3092   Recreational Vehicle Service Technicians
49-3093   Tire Repairers and Changers
53-6051   Transportation Inspectors
53-7061   Cleaners of Vehicles and Equipment
LOCAL   Service Specialist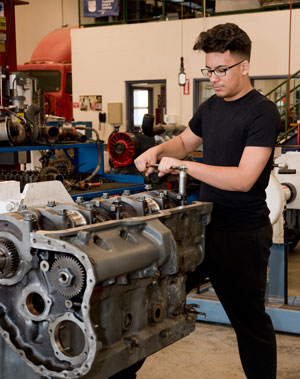 CTC knowledge transfers to college credits at:
Johnson College
Lincoln Technical Institute
Pennsylvania College of Technology
➤ Adult Education Clock Hour/Credit Hour Chart for this program
Student Certifications
NOCTI – National Occupational Competency Testing Institute Certification
* Diesel Technology
Pennsylvania State Safety Inspector Certification, Cat I
Pennsylvania State Safety Inspector Certification, Cat III
Pennsylvania State Emissions Inspector Certification
S/P2
Valvoline Motor Oil Specialist Certification
Section 609 Certification for Refrigerant Recycling and Recovery
Accreditations
NATEF – National Automotive Technicians Education Foundation

➤ For more detailed information about this program, including the grading policy, task list, etc., please refer to the course syllabus.
---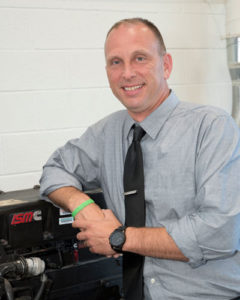 Instructor – Mr. Michael G. Merkel
Biography
Being a lifelong learner has allowed me to become a Master Mechanic on any engine, big or small. Throughout my life I have strived to learn as much about the theory and operations of all engine types. During high school, I attended the Automotive/Diesel Technology course at Berks Vo-Tech East and graduated from Automotive Technology Advanced Class III.
After a few years working in the field, I enlisted in the United States Marine Corps. There I was an I-Level Technician for the T-400 Huey and T-700 Cobra Turbo-Shaft engines. This led to being a Test Cell Operator.
After my tour of duty I went back into the diesel field. I then was given an opportunity to teach at RMCTC for two years as the Motorcycle, Marine and Small Engine instructor before returning to the diesel field for the past twelve years. I enjoy sharing the knowledge and work ethic I have learned throughout my career as a technician and a marine. Altogether, I have more than 20 years of experience in the diesel technology field.
Education
Associate's Degree, Information Technology, Kaplan University
Certifications and Awards
T-400/T-700 Turbo-Shaft Engine Rebuild/Repair – United States Marine Corps
Cummins Engine/Electrical/Mechanical Specialist
Cat Engine/Electrical/Mechanical Specialist
Perkins Engine/Electrical/Mechanical Specialist
Isuzu Engine/Electrical/Mechanical Specialist
Ford 6.0/6.4/6.7 Diesel Engine/Electrical Certifications
Ford Electronics and Troubleshooting
Certified Class 7 Truck, Car and Trailer Inspection Mechanic
Fork-Lift Trainer Certificate/Operator
Work Experience
Diesel and turbo-shaft engine technician experience of more than 20 years.
Hire Date: 2017
Community Service
Youth soccer and basketball coach
---

SOAR programs of study prepare today's student for tomorrow's high demand and high wage careers.